Burp. Onpa tullut syötyä taas suklaata. Talvi on ilmeisesti ottanut voiton...tai no, mikä talvi? Ei tuota ulkona vallitsevaa säätä oikein voi talveksi kutsua. Tuulee, on harmaata ja sataa melkein joka päivä. Jokatapauksessa, kutsutaan sitä sitten kaamosmasennukseksi tai joksikin, minulla on hirveä suklaanhimo. Eilen löysin Ferrero Rocher-namuja tarjouksesta (lempisuklaata) ja tänään piti ostaa Fazerin uutta Maya-suklaata (siinä on chiliä, siitä nimi). Ja kaikki on syöty. Nam!

- -

Burp. I've eaten a bit of chocolate again. I guess the winter finally got its claws into me...or, what winter? I can't really call the weather outside winter. It's windy, grey and it's raining almost every day. In any case, whether you call it winter depression or something, I have this craving for chocolate. Yesterday I found Ferrero Rocher on sale (my favourite) and today I had to buy the new Fazer Maya-chocolate (it's got chili in it, hence the name). And I've eaten them all. Yum!

- -

Mutta koska tämä on neulontablogi, eikä suklaablogi (hmm...siinäpä tosin ajatus) niin takaisin neulontaan. Viime viikolla Helsinkitapaamisessa sain Minnalta laatikon.

- -

But since this is a knitting blog and not a chocolate blog (hmm...there is an idea though) let's get back to the knitting. Last week in Helsinki-meet I got a box from Minna.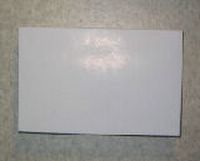 Ja mitäpä siellä oli? No tietenkin lankaa! 12 kerää On Line Kaschmerino-lankaa. 11 mustaa ja yksi valkoinen. Tiedän kyllä, että julistin tammikuun lankaostosvapaaksi vyöhykkeeksi, mutta kun langat ostettiinkin jo ennen joulua. Olen vain ollut kärsivällinen ja sain langat vasta nyt. (Joo, mustasta langasta tulee huonoja kuvia, tiedän.)

- -

And what was inside it? Well, yarn of course! 12 balls of On Line Kaschmerino yarn. 11 black and one white. Now I know that I declared January the no-yarn-purchases -zone, but this yarn got bought already before christmas. I've just been patient and got the yarn now. (Yes, black yarn doesn't photograph well, I know.)

Maxwellille kuuluu hyvää. Molemmat hihat ovat valmiit ja aloitin juuri toisen etukappaleen. Kyllä se tästä, kohta se on valmis ja sitten takaisin kietaisuneuleen pariin.

Hmm...pitäisiköhän minunkin tehdä jotain blogini ulkonäön eteen kun monet ovat viritelleet blogejaan uuteen uskoon?

- -

Maxwell is doing fine. Both sleeves are finished and I just started the first front piece. It's getting there, soon it's finished and then it's back to the wraparound top.

Hmm...I wonder if I should do something about the way my blog looks since many have done so?