Lauantaina KIPpailin minäkin Espoon Tapiolassa ja pääsin Neuletikistä ulos ilman langan lankaa, vaikka Atelier Zitronin Kokon-lanka houkuttelikin. Ehkä sitten myöhemmin... Mutta ei kuvia, koska unohdin kameran olemassaolon Neuletikin jälkeen ja siellä ottamani pari kuvaa olivat tärähtäneitä. Selitystä tapahtumasta löytyy kyllä vaikka täältä ja täältä (se olen minä se punapaitainen etualalla jolla on selkä kuvaajaan päin). Nytpä tekee minunkin mieleni neuloa pitsihuiveja.

- -

I KIP:ped in Espoo, Tapiola on Saturday too and managed to leave the LYS without any yarn, although the Kokon by Atelier Zitron was very, very tempting. Maybe later... But unfortunately no photos, because I forgot I had a camera right after the LYS and the photos I took there were a bit blurry. Account of the day can be found for example here. Now I want to knit a lace scarf too.

- -

Ja pitsihuiveista puheenollen, sain torstaina lahjan neljänneltä pohjoismaiselta salaiselta ystävältäni. Paketista löytyi kierrehuivi Rowanin Summer Tweed-langasta ja kaakao- ja jääteejauheita ja tikkari. Kiitokset lahjasta menevät Katelle Norjaan!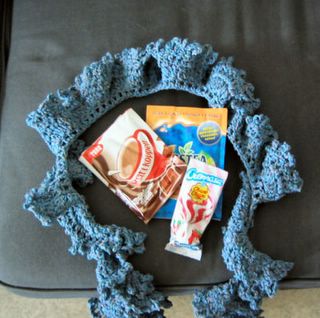 And speaking of lace scarves, I got a present from my 4th nordic secret friend. A curvy scarf made of Rowan Summer Tweed and some goodies (hot chocolate and ice tea drinks and a lollipop). Thank you's go to Kate in Norway!

- -

Mutta enpä ole istunut tyhjänpanttina minäkään. Sain pitkin hampain aloitettua sukat kipuvillasta. Ja tässä on ensimmäinen valmiina. Sukasta tulee mieleen kaurapuuro...väri on aika sama ja lanka on hieman epätasaista. Kovasti on kikkanan oloinen sukka, mutta minähän vain tein työtä käskettyä. Toivottavasti lanka mahtuu äidin jalkaan.